Digital Goodie platform consists of three sets of microservices of which Commerce and Fulfillment are sold as independent products.
Fulfillment microservices are needed for handling incoming orders, picking them from the store or warehouse, and delivering them to your customers.
Core comprises essential platform functionalities such as product data and APIs. These components are not sold on their own but they are always included in Commerce and Fulfillment.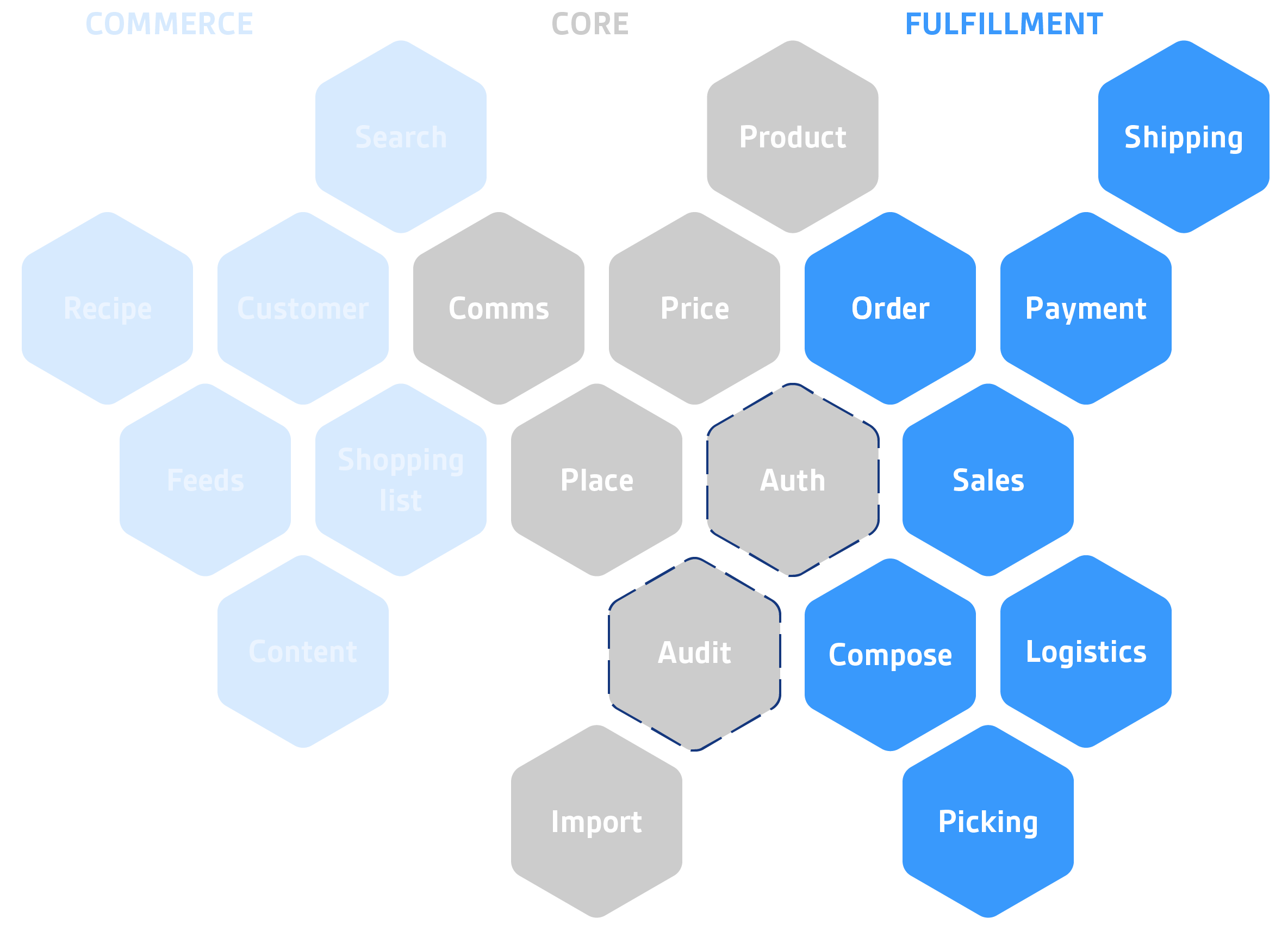 1
Shipping
A Shipper can deliver the goods to shoppers
2
Order
A Store or Warehouse can deliver and manage Orders
3
Payment
A Store can collect payments for Orders
6
Logistics
A Store can use order orchestration, drop-shippers and delivery agents
7
Picking
A Store can pick Orders in-store on in warehouse
HOME DELIVERY SUPPORT
Stores can have multiple delivery areas and time slots.
CLICK-AND-COLLECT SUPPORT
Stores can have multiple collection points for orders.
DROP SHIPPING SUPPORT
The platform is able to handle products delivered by 3rd parties.
ORDER TRANSFERS
The platform enables order transfers between fulfillment locations to help peak time order fulfillment.
FULFILLMENT AND PICKING ANALYTICS
The platform enables tracking of the most important fulfillment metrics, for example: number of SKUs and quantities picked, working hours, picking efficiency, number of substituted products, delivery time exeptions, etc. All metrics can be viewed on store-level or by individual employee.
SALES REPORT
The platform provides weekly, monthly and cumulative sales reports for financial tracking.
BATCH PICKING
The fulfillment solution enables batch picking that includes pre-determined orders with similar or same products to be picked at the same time.
MULTI-ORDER PICKING
The fulfillment solution is capable to guide the picker through multi-order picking, where picker can pick multiple orders at the same time following an optimized route.
PICKING ORDER BASED ON STORE PLANOGRAM
Picking is optimised using location information of the products to decrease time spent walking between product locations.
SUPPORT FOR SUBSTITUTIONS
Customers are able to communicate if and how they want the picker to handle product substitutions for each individual product. In cases where product substitution should take place but the customer has not specified their preferred product, the Shopkeeper application provides product recommendations to the picker.
POS INTEGRATION
Support for Point-of-Sale integration to automaticly transfer order and price information to the cash register and book keeping.
SUPPORT FOR MULTIPLE PICKING TOTES PER ORDER
Solution is capable to assign multiple totes per order or add additional totes to the order if needed.
SUPPORT FOR MULTIPLE STORAGE LOCATIONS PER ORDER
The fulfillment solution supports assigning several different storage locations for each picked order based on the commodity type and storage requirements; for example cold storage and freezer.
CONFIGURABLE DELIVERY AREAS AND TIMES SLOTS PER STORE
Store personnel is able to define delivery areas and delivery times through the admin panel, as well as determine maximum order quota, delivery fees and slot closing times.
CONFIGURABLE PRICING PER DELIVERY AREA AND TIME SLOT
Each delivery area and time slot can be priced separately.
REAL-TIME DELIVERY ESTIMATIONS
Users can be notified about their delivery progress and estimated delivery time via email, sms or in-app notifications.
MULTIPLE PICKUP LOCATIONS PER STORE
Each store can be assigned with multiple pickup locations. This can include in-store pickup and remote pickup locations.
CONFIGURABLE PICKUP TIMES AND PRICES FOR EACH PICKUP LOCATION
Each pickup timeslot can be assigned with a maximum order quota, picking fee and slot closing time.
AUTOMATIC ROUTE PLANNING
Digital Foodie's Shopkeeper application enables planning delivery routes automatically based on the order grouping for one or multiple timeslots.
MANUAL ROUTE PLANNING
Shopkeeper application enables assigning orders manually to delivery groups.
COMBINING DELIVERY TIME SLOTS
Delivery groups can be assigned by a delivery time slot or by combining orders from multiple delivery slots to create the most optimal delivery route for the driver.
DRIVER ASSIGNMENT
Drivers are assigned to automatically or manually created delivery groups for deliveries as well as track the driver's route and order deliveries.
DEPARTURE TIMES
Each delivery group is assigned with a departure time per truck, allowing onsumers to track the progression of their orders.
SHOPKEEPER APPLICATION
View, manage and fulfill orders using Shopkeeper iPad app
Shipping integration with label printing
Support for wireless barcode scanners
Print labels and packaging slips
ADMIN PANEL
Configure all of your fulfillment elements in one place
Manage delivery zones and time slots
Configure delivery prices
Stay on track of your important fulfillment metrics such as picking efficiency
Get in touch with us and let's talk more.