Digital Goodie platform consists of three sets of microservices of which Commerce and Fulfillment are sold as independent products.
Commerce microservices are all related to what happens when your customers plan, search for and buy products.
Core comprises essential platform functionalities such as product data and APIs. These components are not sold on their own but they are always included in Commerce and Fulfillment.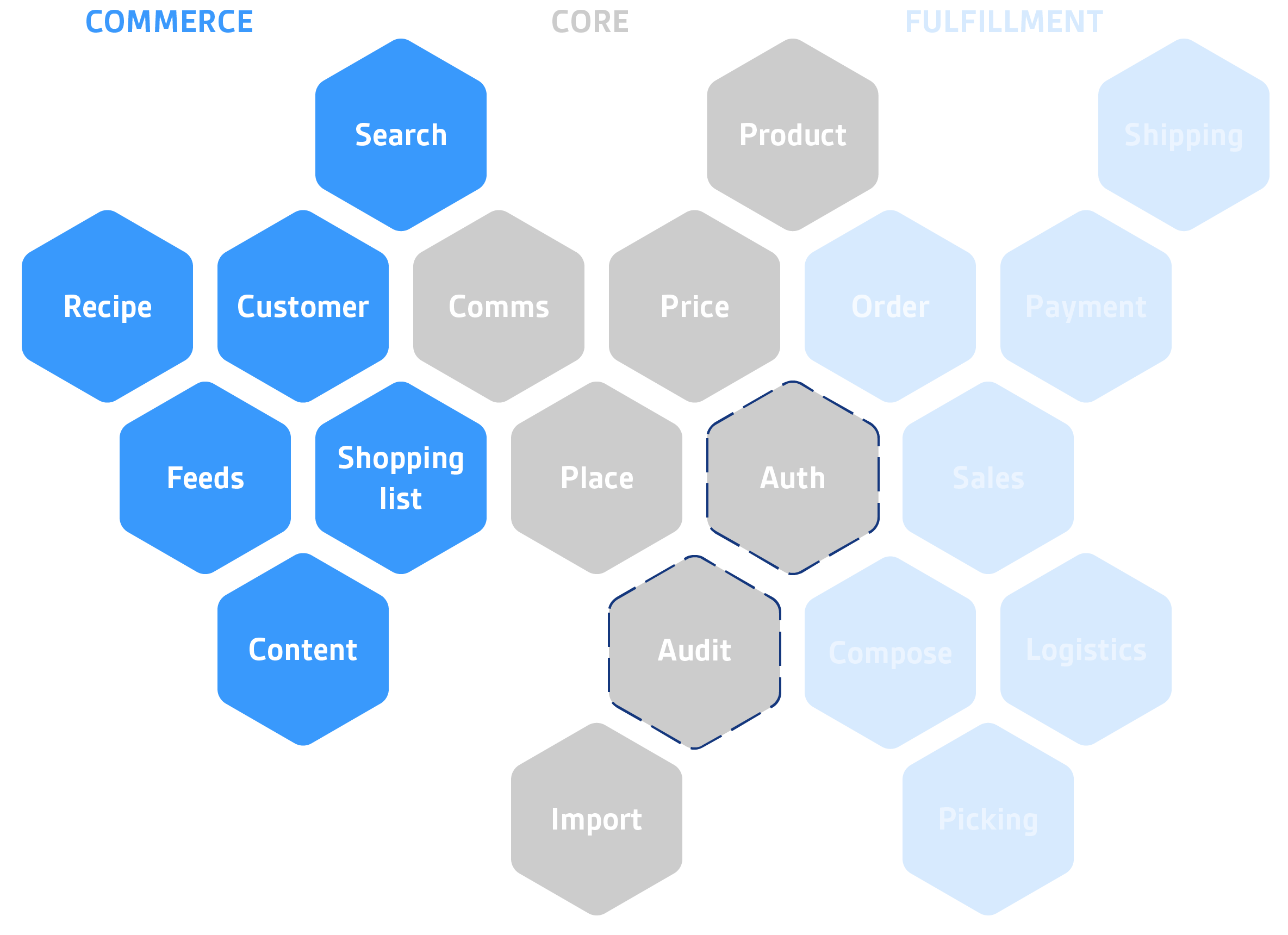 1
Search 
Shoppers can find Products, Recipes and Places
2
Recipe    
Shoppers can browse Recipes and add them to Cart
3
Customer      
Shoppers can manage their own information and profiles
4
Feeds  
Apps can connect to the platform for store info and merchandizing
5
Shopping list    
Shoppers can create shopping lists, and share their lists
6
Content     
Stores can manage web store content eg. front page, campaigns, product bundles
SECURE CHECKOUT
All transactions and personal information is secured using encrypted messaging.
UNREGISTERED CHECKOUT
Users are able to complete checkout without registering (email is required for order confirmation emails).
ORDER TRACKING
Customers, as well as, store personnel are able to track orders in real-time. The status can be checked from the consumer facing services (web & mobile apps) as well as from the admistrative tools (Admin Panel, Shopkeeper Application)
CUSTOMER ORDER NOTIFICATIONS
Customers receive information about their order throughout the fulfilment process.
PAY IN-STORE OR PAY AHEAD
The platform supports both in-store payments as well as online payments. Online payment types, like bank transfers, credit and debit card payments, can be configured for each store.
AMEND ORDERS AFTER CHECKOUT
Registered users are able to amend their orders until the picking process has started.
ORDER HISTORY
Registered users can view their order history
DISCOUNT CODES
Platform includes support for various discount codes.
SAVED SHOPPING LISTS
Users are able to save shopping lists for later use.
SUPPORT FOR BRICK-AND-MORTAR STORES
Shopping lists can also be used to help shopping (plan ahead) in brick-and-mortar stores.
SORTING BY STORE PLANOGRAM
Users are able to sort their shopping list based on selected store's planogram
SUPPORT FOR INDOOR MAPS
Shoppers are able to locate any given product on a store layout map. Adding this functionality requires a store layout plan and product data containing the shelf number or name of the product compartment.
PRODUCT LEVEL SUBSTITUTIONS WITH CUSTOM MESSAGES
Users can specify on product level, which and how, products can be substituted. The Shopkeeper application also provides help for the picker when product substitution should take place, but the customer has not specified his/her preferred product.
COLLABORATIVE SHOPPING LIST
It's possible to share and co-edit shopping lists
SEND BY SMS OR EMAIL
The platform is capable to send shopping lists as SMS (additional cost to retailer) and email
DEFAULT DELIVERY ADDRESSES
Registered users can save their preferred delivery addresses for future use to ease the checkout process.
ELASTIC SEARCH WITH PERSONALIZED RESULTS
Elastic Search enables product search covering all product data. The search terms can also be combined for more accurate results. All results are filtered and sorted based on users personal profile.
SORTING BASED ON PRODUCT ATTRIBUTES
Search results can be sorted based on comparison price, name or recommendation value.
PRODUCT COMPARISON
Users are able to compare products based on product information and attributes.
FAVOURITE PRODUCTS
Users are able to add product to their favourite product lists for
easy access.
FACETED NAVIGATION
Filters like brands, categories and attributes from Elastic Search are available for faceted navigation.
SEARCHANDIZING
Retailer is able to promote specific products when users search for certain keywords or phrases, for up-selling, cross-selling or promoting specific merchandise.
SIMILAR PRODUCTS
In the context of a single product the platform is capable to show similar products to the user
PEOPLE WHO BOUGHT, ALSO BOUGHT
The platform keeps track of products that are frequently bought together
PRODUCT REVIEWS
Users are able to review products using star ratings, like/dislike, and free text reviews.
SHARE TO SOCIAL MEDIA
Users are able to share products, recipes and stores to social media platforms to increase services' organic growth.
COLLECTIONS FOR PRODUCT DISCOVERY
The Digital Foodie platform enables the retailer to manage product collections. Collections can contain a number of products and offers with a specific display of properties such as cover image and custom header.
SUPPORT FOR ADVANCED CAMPAIGNS AND PRICING SCHEMES
The Digital Foodie platform has a variety of built-in offer types including mix-and-match, price reductions, etc. All offer types can be attached to individual product, group of products or to product categories. Offers can also be targeted by store, time, channel or user segment.
CUSTOMIZABLE CONTENT BLOCKS AND BANNERS
The platform provides tools for the retailer to customise ads and other messaging on the website and mobile applications
CUSTOMIZABLE ORDER NOTIFICATIONS
Retailers are able to customize order notifications sent to users.
E-MAIL TEMPLATE MANAGEMENT
The platform has a built-in tool to manage emails, like registration confirmation sent to the users.
FEEDBACK MODERATION
Feedbacks, like product reviews, can be moderated in the Admin Panel.
ONE-CLICK-TO-CART RECIPES WITH USER SPECIFIC PRODUCT MATCHING
When adding a recipe to cart the platform is capable to map all recipe ingredients based on the users purchase history, preferences and allergies.
ONE-CLICK-TO-CART RECIPES WITH PREDEFINED PRODUCT MATCHING
It's possible to override the default functionality of the recipe to use predefined product mappings when adding ingredients to cart. For example in the case on a vendor specific recipe promotion.
USER GENERATED RECIPES
Users are able to add their own recipes to the service.
PRODUCT TO RECIPE MATCHING
The platform is capable to recommend recipes based on one or more products.
Get in touch with us and let's talk more.